No matter where you look, pretty much every business is hiring. It's certainly a job-seeker's market right now. But let's just ignore those 300 other job postings for the moment and keep reading to find out how you'll make a difference, and why you'll enjoy working with us!
Who we are: Home Care Companions has been serving communities for more than 15 years. We strive to enhance the lives of others through convenient in-home services designed to maintain dignity through care when you need it, where you need it. No matter where you call home.
Our passion is to assist people to safely age in a place they call home and guide them through the transitions that come with getting older.
Is serving others your passion?
Our question to you isn't "Do you want a job?" Our question is "What do you want to do?" What's your passion, and what makes you feel good about going to work each day?
At Home Care Companions, we'll work to match your passion with your position (not to mention, we have multiple opportunities to meet most schedules).
Home Care Companions is looking to expand our team!
We're seeking dedicated caregivers, homemakers, and staff to join our companionship and caregiver teams, to help local individuals continue living independently at home.
Flexible hours to meet your needs. Full-time or part-time, if you're a good fit, we're happy to have you ANY TIME!
Whether you're seeking a comfortable full-time career or you're retired and want to give back for 20 (or even just 10) hours/week, we'd love to hear from you. Many of our dedicated caregivers are students paying for tuition, retirees, or those who are looking for a second job to put more cash in their vacation funds. We have agreeable schedules for most everyone.
Some of our staff even come to us to gain further experience as they pursue their education in the healthcare field—a truly hands-on way to learn!
"I enjoy the flexible schedule and the variety that each day offers. Every day is something different."
—Melissa Myers (Caregiver, Bismarck)
Experience the joy of service. Feel good while doing good.
"Being part of the Home Care Companions community allows me to get up every day and be positively impacted by our amazing clients. I am blessed to provide care to some of the best people in the Bismarck/Mandan area. Because every client has different needs, each day is different. It is a rewarding experience to see the smiles on their faces and know we are making a difference for them."
—Cindy Anhorn (Care Coordinator, Bismarck)
Those who might benefit from our services include:
Join the Home Care Companions Team
While we enjoy serving everyone, the extra support we provide for seniors can be especially helpful. By assisting with chores and other tasks a senior can no longer safely complete, we can help them to stay in their home longer.
Our goal is to make sure that people who want to stay at home can, safely while maintaining independence.
"I love being a caregiver because it gives me the opportunity to help the elderly stay in their home. It is very gratifying, and all my clients are so thankful and appreciative of my help."
—Denise Martin (Caregiver, Bismarck)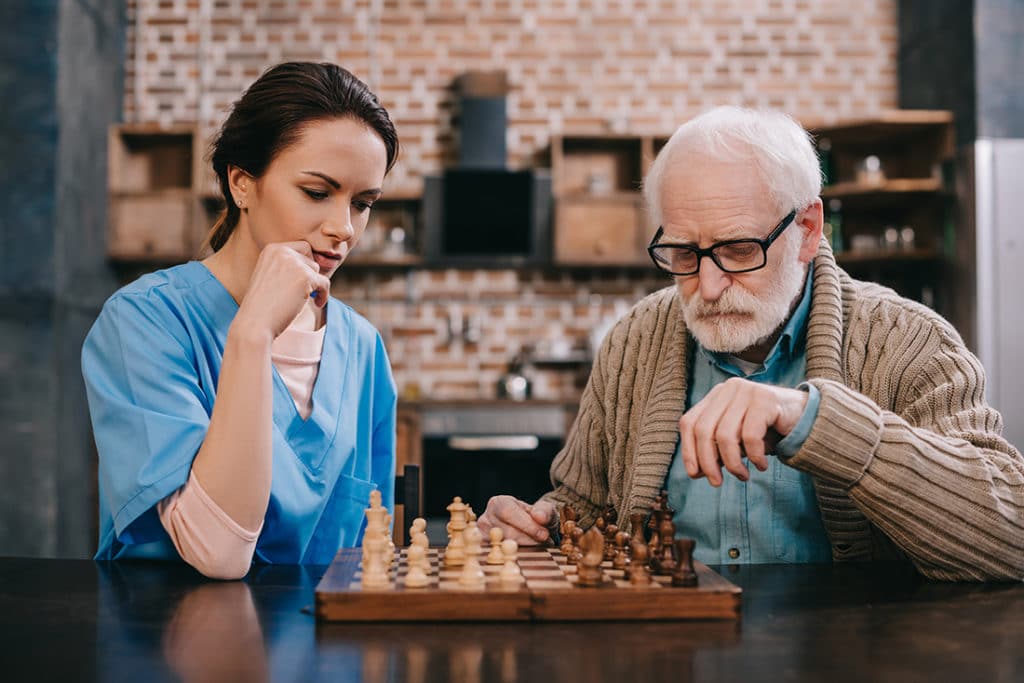 Make friends at work. Enjoy your clients and your co-workers.
"I love building relationships and cherishing the memories and stories they share. I enjoy companionship, becoming part of a new family, and creating lifelong relationships."
—Amy Seidel (Caregiver, Grand Forks)
We work diligently to get to know our staff and clients so when we match them to work together, there's a mutual benefit. Many of our caregivers, clients, and their families develop meaningful relationships.
Our leadership teams are amazing listeners, too—we want to hear from you on what's working and what could use improvement in your daily work. We find that having a healthy working relationship with open communication can reduce caregiver burnout and job dissatisfaction.
No license; that's okay. Experience is helpful, but not a must.
At Home Care Companions, if you're a Certified Nursing Assistant (CNA) or Personal Care Assistant (PCA) that's a plus, but there's no requirement that you have a certification.
We offer on-the-job training, and we're always looking for amazing staff to be companions or personal caregivers, housekeepers, and staff to provide errand running. We also welcome good cooks to prepare delicious and nutritious meals for our clients. Our staff not only learn in their on-the-job training, but they gain knowledge from our amazing clients too—real-world training is always a plus.
Home Care Companions also offers:
"Deciding to be a caregiver was one of the best decisions of my life!!"
—Karlee Wehe (Caregiver, Grand Forks)